I just got home from visiting my niece Kylie in New York. I am so happy that I was able to spend with her and my family. It all began with the adventures of the big "Who Who." Kylie's favorite animals are owls and turtles. She names all her animals based on the sounds that they make. Her kitty is "Meow Meow," her bird is "Chirp Chirp," and her baby owl is "Who Who." Before my trip, my hubby came home with this ginormous owl that is both a pillow/blanket. Seriously, this thing is so big, but he was super excited to give it to Kylie. I tried to pack it so that I would not have to carry it around the airport, but it's plump awkward body wasn't cooperating with me. I gave up and decided to bring it as one of my carry-ons. I kept texting my sister-in-law, "my adventures with Who Who" and she was cracking up. She really wanted me to blog about my experience so these images might only be funny to us and no one else. When you find situations that make you smile through drama, you learn to milk it for all its worth.
Take note that I did bring my camera on this trip, but I never pulled it out once.
Why is it so hard for photographers to take pictures of their personal life? I'm such an iPhone photo taking junkie!
Introducing, Who Who.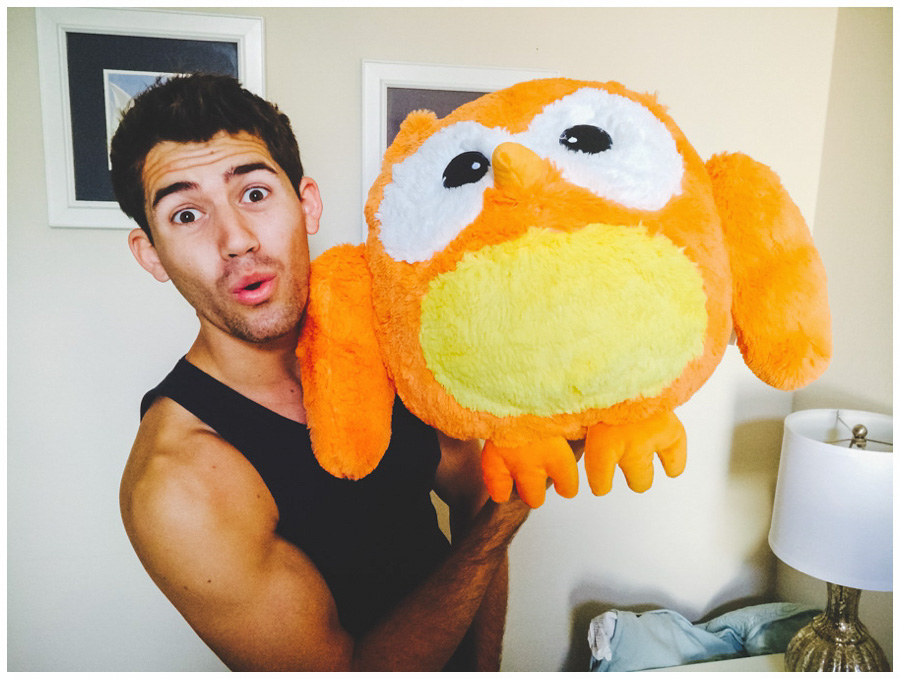 Pin this
image
My dad is pilot for Southwest so us kiddos get to fly standby. It's awesome being able to fly for free, but you always have the risk of not making it on your flight. I've experienced it one to many times. We always have to arrive around 4 am and try to catch the first flight out because we never know how many chances we will need to get to our destination. They only let you on the plane if there are available seats. My first flight was to Chicago and I barely made it. I was the last one on the plane, but luckily I still received a window seat. I wouldn't care if they stuffed me in the overhead bin, I just wanted to get to New York! Here's me and Who Who sharing our excitement as we boarded the plane. He took up most of my leg room.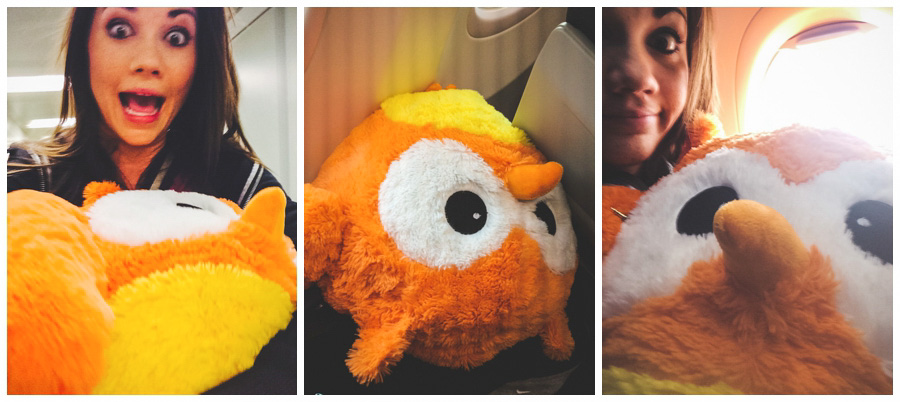 Pin this
image
When we landed, I had a 4 hour layover. Who Who politely joined me in the restroom and was my lunch date.

Pin this
image
Now that I'm mobile, I am able to edit on the go. Who Who watched me edit and when he got bored, he decided to take a nap.


Pin this
image
My connecting flight was full, so I had to wait another two hours. I wasn't supposed to make it, but luck was on our side. Once again, we were the last ones on the plane and this time I stuffed Who Who in the overhead bin. Can you find him?


Pin this
image
That was my adventures with Who Who. After 14 hours of travel, we finally made it to New York. Now, I'm excited to share about my trip. My sister-in-law sleeps in the hospital with Kylie on a teeny tiny couch and my brother sleeps in the Ronal McDonald house three blocks away. When we woke up the next day, we were greeted with sunshine and pink tulips leading us to our Ky baby!


Pin this
image
Kylie did not have a great day prior to my arrival. She actually experienced one of her scariest moments. Her Co2 got so high it couldn't read and her oxygen was in the 200s. The ventilator she was on wasn't working anymore so they switched her to a different one. About 5 minutes later, she started turning purple! They had to hand pump her and they squeezed her chest. They started pushing on her lungs and for 25 long seconds, air came streaming out of the tube! She was filled like a balloon! Come to find out there was a huge mucus clog in the tube so oxygen, air, and CO2 were filling her lungs, but nothing was coming out!


Pin this
image
Once they suctioned all the gunk out of her, she was doing much better. Through it all, Kylie is still such a girlie girl. I love that her nails are still painted pink and that she is always surrounded by all her favorite stuffed animals. She loves these stuffed toys so much that 5×7 prints of them are hanging all around her bed. The nurses have learned to utilize them. The turtles prop her feet, Chirp Chirp is used to help the reflexes in her hand, and they use Who Who and Meow Meow to prop tubes and/or hold them in place.

Pin this
image
Kylie can't move, but she can hear and feel. She does not like being touched and whenever the nurses start changing her tubes, her heart monitor starts beeping and her heart rate sky rockets. The saddest part is that sometimes little tears fall from her eyes. However, her body seems to calm down when her mom is around. She loves hearing animal noises, music, and we love smooching' on her. As time passed, she showed improvements all across the board and her color came back. Her stomach was still really swollen, but we were thankful for positive changes.


Pin this
image
We spent our entire time in the hospital on Bree's tiny couch/bed. We pass the time with TV, funny YouTubes, and reading to Kylie. If we feel motivated, we sometimes walk outside to buy a hot dog.
I think we took 2-3 naps a day. Even though we don't do much, it's still tiring to be in the hospital for hours on end. It's a very draining experiencing. I can't believe they have been in the hospital for almost 80 days in a row.
While it was 90 degrees and sunny in San Diego, it was cold, windy, and rainy in New York. I like the rain so I didn't mind it, but I did make the mistake of not packing an umbrella. Three blocks does not seem like much, but they are when it's pouring rain. Luckily, I found an old broken umbrella on the side of the road. I looked pitiful and an older man took notice. He approached me and asked if I would like to come to his place for some fresh clothes and a new umbrella. Ummmmm, no thanks. I've seen Taken one to many times. Thankfully, my brother purchased a cute umbrella for me. That helped keep the creepers away.


Pin this
image

Pin this
image
On day three, my sister arrived. I love having my sister around. She seems to always bring extra light and positivity wherever she goes.


Pin this
image

Pin this
image
On day four, we decided to give Bree a break and take her out on the town. We got away for a few hours and decided that we would shop for Kylie's birthday. It's on May 11th (also Mother's Day) and Bree wants to throw her a hospital party. It was supposed to be raining all day, but we were greeted with some warm sunshine. I have never been to New York when it wasn't raining/snowing, so I was very excited to walk around. Our first stop was to this delicious popcorn truck. Seriously, I'm popcorn obsessed. This was heaven for me! 

Pin this
image
I love all the beautiful stoops on the east coast. I enjoy seeing the creative touches residents make to make their stoop unique. Colorful doors, plants, curvy stairways… you name it. They find a way to make theirs different from the rest.

Pin this
image

Pin this
image
Springtime in New York is AMAZING. I'm so thankful I was able to witness bits and pieces of it. Flowers were blooming on every corner.


Pin this
image

Pin this
image
We walked to central park and explored all over. We even laid in the grass and watched the clouds. It was very movie like. I was ready for a musical number to break out at any moment.

Pin this
image
We made sure to incorporate Kylie into our mini Central Park adventures.
It was fun being reunited with my sisters. I love spending time with these two. 

Pin this
image

Pin this
image

Pin this
image
The "Friends" fountain and Strawberry Fields are my two favorite places in Central Park. I'm so happy that we were able to see them both.

Pin this
image
When our feet got tired, we took a taxi to Time Square. That place is ALWAYS crazy. Secretly, I love bumping into people on purpose because it's just the norm in this city. We shopped till we dropped at Toys R Us and Bree treated my sister and I to a delicious dinner at The Hard Rock. This was such a fun day!


Pin this
image
I'm thankful I was able to fly out and see my niece and spend time with my family. God is doing amazing things through Kylie and I love being able to witness His miracles. One day, I was praying over Kylie while my brother and Bree were walking around the hospital. There is power in prayer and physically touching someone while doing it. Toward the end of my prayer, I asked God to give us some good news today. Literally, within a minute, Bree walks into the room smiling saying, "I have good news!!" The doctor told her that Kylie is improving and miracles are taking place that he has never seen. How amazing is that? We serve an awesome God! On my last night, I kept praying that I would see Kylie wake up before I left. The nurses told us that it probably would not happen. It was 11pm and we were all being lazy on the couch. My brother looks up and says, "uggggh, whoa!!" We all look up and Kylie was staring at us. She hasn't opened her eyes in 12 days. It was mesmerizing!! It lasted about a minute, but it the best minute of the entire trip. It truly was an answered prayer! 

Pin this
image
Flying home, I was sad to leave my family behind. I wish we could stop work and time and be where we want to be. Who doesn't want that though? Thankfully, it was a very easy trip home and I made all my connecting flights. Normally, I don't like flying. I hate the smell of airplanes and I'm an extreme germaphobe when it comes to my hands touching things. I would rather give you a hug than shake your hand. As long as I'm being negative, I also don't like the close quarters of airplane seating. I usually sleep the entire flight and when you sit in the middle, do you sleep with your head facing the person on your right or on your left? Do they look at your while you're sleeping? Do you make weird noises? Questions I'll never know… And THEN, I always feel awkward because I often wake up with a jolt and scare my seat neighbors. I try to blame it on turbulence, but their weird looks never buy what I'm selling.
However, this flight was more peaceful, and once again I somehow lucked out with a window seat. This never happens on standby. I loved looking out my window and flying over the snowy mountains. It was so cool being able to watch the snowflakes sprinkle all over my window. It reminded me how creative God is. He made each life and situation uniquely. Kylie is a special baby girl and unlike any other… just like a snowflake. It sounds cheesy, but it's cheesy moments that always touch me. You hear horror stories of cancer, but you also hear miraculous stories and how people beat the odds. If it's God's will, I hope she continues to shock the doctors with more and more miracles. Keep fighting Ky baby!


Pin this
image