My hubby and I recently took a week off and traveled to Oahu, Hawaii. We have to start our summer vacations a little earlier than most because summer tends to be one of our busiest seasons. Hawaii is our favorite place to visit because we love beach bumming and we have mastered lazy island time. My favorite days are the ones with a lack of schedule. When Trent and I go on vacation we hold one another accountable by making sure that our cell phones are turned off and that our email vacation responses are turned on.
I wish someone recorded our trip because it truly was the vacation of unfortunate events. A week leading up to our departure, I discovered that I had shingles along my torso. I spent my days and nights itching, which inspired Trent to remix the song, "Single Ladies" to "Shingle Ladies." The day before our flight, Trent took our dog on a walk and stepped on a thorn. Why he was walking barefoot, I'll never know. I think Trent was Tarzan in his past life. Anyways, his foot got infected and he developed an extreme cankle. Our first day in Oahu was spent in Urgent Care where he was diagnosed with Cellulitis. On the second day, we headed out to Waikiki and we spent our entire day in the sun. I want to thank my parents for my fair freckly skin because that night I had one of the worst sunburns I have ever experienced. If I could've bathed in my aloe vera bottle I would have! While laying on the couch as stiff as a mummy, Trent and I looked at one another and could not help but laugh as we examined his swollen foot, my shingles, and my vibrant sunburn. On the third day we decided to spend our time in the shade and hide from the evil rays of the sun. We saw Iron Man 3 and being the super hero nerds that we are we LOVED it. We went shopping, ate delicious food, and relaxed in the shade by the pool with frozen drinks and some good reading. On the fourth day, we headed out to Manoa Falls. Every time we travel to Hawaii we tell ourselves that we are going to hike to a waterfall, but we are always to lazy to make the trip. Trent was supposed to stay off his foot for the week, but for those who know Trent know that confining him to a week of no activities is simply out of the question. When we arrived we were greeted by a downpour of rain. Just our luck right? Well, we already drove all that way and we figured that the tropical rain would feel good on our sunburns. I am so thankful that we decided to continue on with this hike because it was my all time favorite memory from our trip. We hiked in ankle deep trails of mud (which quickly turned into mud fights), we climbed trees, laid in the stream, and we ended our hike with a beautiful and powerful waterfall. We were a sight to see as we hiked back to our car because we looked like swamp creatures as we passed tourists with their layers of ponchos and umbrellas. By the fourth day, my sunburn finally contained itself and we were able to spend our final days laying out by the pool and at our new favorite beach, Lanikai Beach.
Although, it was not the vacationed we imagined it turned into one of my all time favorites because it still keeps Trent and I laughing late at night. I'm thankful for my optimistic husband who doesn't let misfortunes get the best of him. He always has this amazing ability to turn something unlucky into an opportunity to find or do something else. On a negative note, I am ashamed that I have turned into an iPhone photographer when it comes to my personal life. However, it's a pain carrying my gear to the pool/beach while worrying about the water, sand, heat, and making sure that someone is watching it at all times. However, I did manage to grab these two pictures of Trent relaxing in our hotel pool. He is always my favorite model and he truly captures the essence of the joys of summer vacation.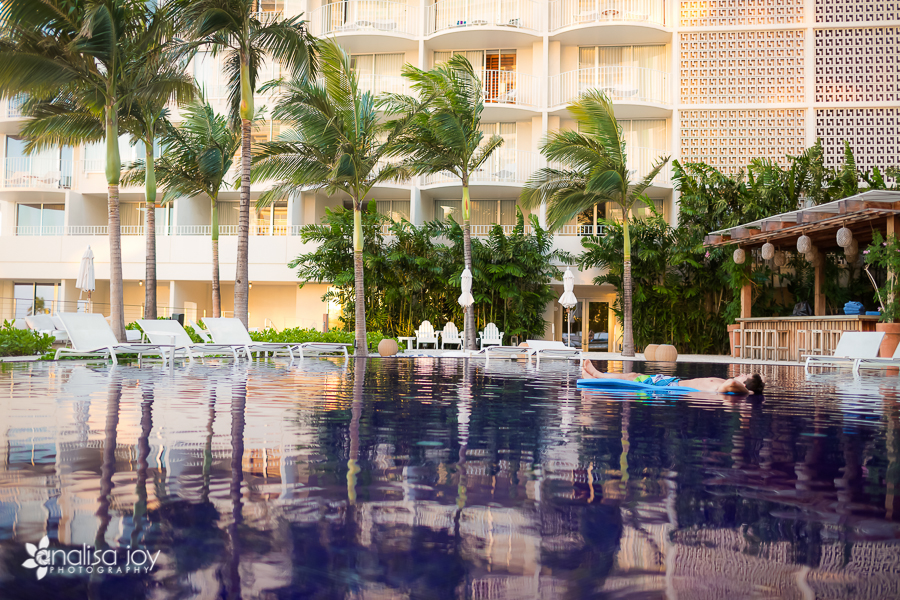 Pin this
image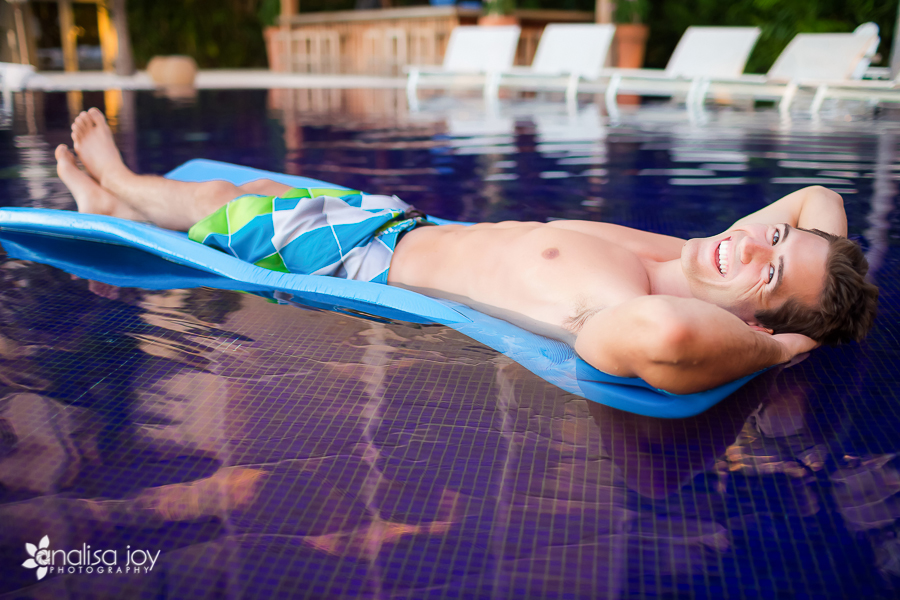 Pin this
image
iPhone Pictures:
Trent's Franken-Foot.