A few months ago, I was able to fly out to New York to visit my brother, sister-in-law, and my niece Kylie. Most of you know her story, but if you don't, my beautiful niece is named Kylie and she is my angel! On December 30, 2013, she was diagnosed with stage 4, high risk, neuroblastoma cancer. She was only 19 months old at the time. They realized the best treatment for Kylie was out in New York so they packed their bags and they have been living in the hospital ever since (for more info on Kylie's diagnosis and journey, check out this blog post).
Throughout this last year, we have encountered several incidents where the doctors have advised us to come in and say our goodbyes. It's been a year of heartbreak and triumph, but through all the ups and downs, we have realized that God has a plan through it all. He is faithful and His light beams through Kylie everyday! Kylie shares an amazing testimony that is filled with fight, hope, and determination. This girl continues to overcome the odds and through all the pain and chaos, she continues to keep us laughing. When the doctors said that Kylie had a high risk of becoming paralyzed on her left side, she moved her arm the next day and attempted crawling. When they said she was going to be lethargic for a long period of time, she was sitting up the next morning and throwing toys off her bed. She can't seem to catch a break, but she continues to hurtle her obstacles while still managing to maintain her sassy attitude.
I was so thankful that I was able to fly out to New York. Kylie was supposed to be discharged during my visit and we planned on having a family photo shoot in Central Park. However, Kylie's fever spiked and she was back in the hospital. Although, we were not able to have a photo session like we hoped, I am thankful for the photos that we captured during our time in the hospital. I think it depicts more of their daily life and I know that these will be images that I will forever treasure.
When you look at these pictures, please find time in your day to pray for my niece. Yesterday was Kylie's first day of receiving a new treatment that no child has ever received before. We are all hoping that this treatment is the answer to our prayers and that Kylie's body will be healed. Here is a recent post that was written by my sister-in-law, Bree.
"I would like to take a minute and just praise God. To simply thank Him for his faithfulness to US. For never leaving or forsaking us. For never giving up on us, even when we've given up on HIM. Thank you, Lord for your free gift of unconditional love. Yesterday was an emotional draining day for us. We finally get discharged and we don't even have enough time to collect ourselves before getting admitted again. We felt exhausted and defeated. But today, thanks to all of you, our prayers were heard and God granted us so much great news. Even in this storm, our oncologist, Dr. Roberts, walked across the street to Cornell's PICU where we were admitted and told us the best news we could have possibly wanted! Kylie's drugs have been APPROVED!!!! Thank you, Jesus! Because of this storm it will be delayed since it's coming from Chicago, but we are still hoping to have it by Friday! A few minutes after this great news, our neurosurgeon came by to tell us we could be discharged! On top of that, he told us that Kylie's skull plate is coming in early and she will be able to get it back in next Wednesday! Almost a week early! I don't know what to do with all this good news. I am almost a little weary that it could all just be too good to be true. I've learned to have no expectations because when I do, nothing goes right. Our PICU doctor told us today that not one of them, the doctors, thought Kylie would still be here or make it this far. She's proven everyone wrong. So today, we are grateful for the fight. That although we have set back after set back, she's still here with us and that she still has a chance at this beautiful thing called LIFE."
This girl is always so sweet and playful. I love when she's feeling good and acting silly.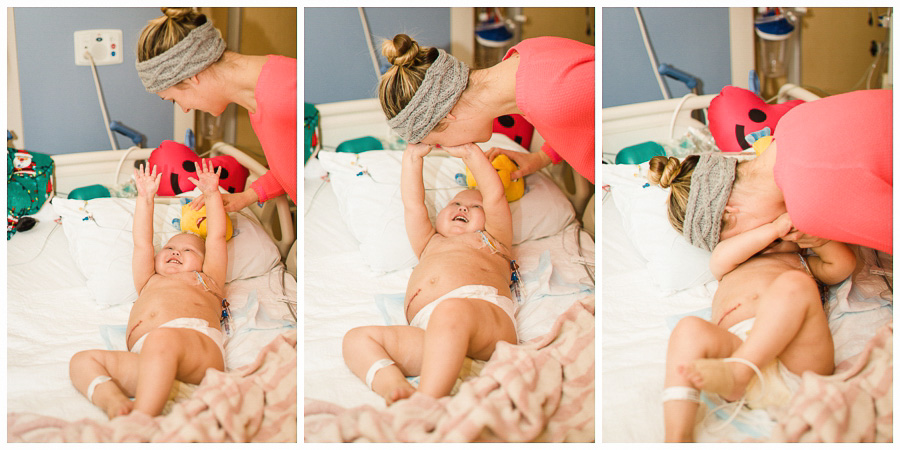 Pin this
image

Pin this
image
My sister was able to come up to New York as well. We love snuggling in bed with Ky and watching movies.

Pin this
image

Pin this
image

Pin this
image

Pin this
image

Pin this
image

Pin this
image

Pin this
image
I'm always impressed by Bree's strength. For almost a year, she has slept on a tiny couch in the hospital.
She rarely sleeps, but she continues to put her heart and soul into Kylie's every need.
Kylie receives love, affection, and joy from this mama from the moment she wakes up to the moment she falls asleep. 

Pin this
image
Kylie is a warrior! Through all the surgeries and stitches, she continues to fight with everything that she has.

Pin this
image
Although this girl brings us so much joy, there are lots of moments of stress, pain, and a feeling of defeat.
I was in New York for only a few days, but in that short period, you feel like you have been sucked into another life where all time is lost.
Again, I'm so impressed by Luke and Bree because they do this everyday with no breaks.
It always reminds me where Kylie received her strength from.
Daddy has an amazing ability to comfort Ky and make her fall asleep.

Pin this
image

Pin this
image
Kylie goes through phases. It used to be a love for monsters, but now it's for dinosaurs. Dino animals, movies… you name it! 

Pin this
image

Pin this
image
My favorite moments are sitting on the couch and watching Kylie interact with her mom and dad.
You can tell that those are the times where she feels the most at peace.

Pin this
image

Pin this
image
A favorite of mine! 

Pin this
image

Pin this
image
"Eat your corn, mama!"
Love this shot!

Pin this
image

Pin this
image
Kylie has this amazing ability to touch people.
She has received so much encouragement and support around the world.
Recently, a sweet woman named Kelly started a nail polish line called, Kylie's Kolors.
She found Kylie's story on Instagram and felt compelled by her story.
Their mission is to raise funds to support Kylie's battle with Stage IV Neuroblastoma.


Pin this
image

Pin this
image

Pin this
image

Pin this
image

Pin this
image

Pin this
image

Pin this
image
The next morning, Kylie wasn't feeling well.
It was a long night and we walked into the room with these two sleeping side by side.


Pin this
image

Pin this
image
I love this shot of my brother, smothering Bree with love… Literally, smothering ;)


Pin this
image

Pin this
image

Pin this
image
Mornings are the best because Kyle has the most adorable jammies. How snuggly does she look?

Pin this
image

Pin this
image
Ky started feeling better when we brought out the toys and bubbles.
She always laughs when she is doing something she isn't supposed to be doing.
Her new favorite thing, throwing toys off the bed.


Pin this
image

Pin this
image
This is when she kept waving for the bubbles. This girl LOVES her bubble time!


Pin this
image
That smirk! Doesn't it melt your heart? 

Pin this
image
My favorite picture to date. I feel like it captures a moment of innocence, hope, and peace. Thanks for reading!


Pin this
image