My niece, Kylie passed on February 7th at 10:19am. It's hard to put into the words how we feel. Heartbroken is one we all agree upon. Rather than writing about it, I'm just going to copy paste my brother's speech that he gave at Kylie's life celebration. It was the perfect tribute to his little girl.
"It has been said that the most authentic thing about us, is our capability to create, to overcome, to endure, to transform, to love and to be greater then our suffering.  But what does that look like? I'm standing before you today with a broken heart. I know every minute im plagued by that void where Kylie's perfect voice would ring out, where I would wake up waiting for new information of another miracle, new videos of Kylies perfect laugh, princess wave, excited reactions to her movies, enthusiastic mama  dada and papa squeals, or determined efforts to crawl, sit up, and get stronger.  I know I miss her. I also know that myself along with many of you ALL are forever changed by her. I know this world is brighter because of my little girl. I have been trying to figure out how I can even begin to sum up the beauty that was Kylie's life. How do I describe the impact that a 2 and ½ year old has had on my heart and the heart of her family and thousands of others. So I began to look from the beginning of this journey, and I have found so many common themes about how Kylie's journey as they have helped others grow in their life. So many people have said things like " I don't know you and we may never meet…but Kylie, thank you for changing my life… You have shown me the true depths of love, and have taught me to appreciate every little second of this life we have." Others have gone on to say things like "Kylie, you are a true testament to faith, prayer, and love and I know your family already knows that, but for someone like myself that didn't grow up with religion or faith in their lives, you have been an inspiration and have forever changed me."  Numerous people touched on their growth in faith. others called Kylie their hero and recognized areas of change with comments like "I started praying again recently because of her…I can only imagine how much she has touched the lives of those who know her, knowing how she has touched mine so deeply in such a short time. … Kylie didn't choose this life, but she lived it remarkably. She was destined for greatness.
In Matthew 28, Jesus gives us our calling as His followers, He calls us to "go and make disciples of all the nations." I KNOW many of us want to leave an unforgettable impact, we want to love others relentlessly, without condition or expectations and with all of our being. We know what we want but so many of us struggle to figure out what our purpose is every day. We know one day we get to return home and have God welcome us with a hug and we hope to simply hear "well done good and faithful servant." We desire something that Kylie completed in 2 short years. We live our whole lives seeking purpose and meaning and influence, and Kylie's entire life was living that out. My girl never got the life her mother and I so desperately wanted for her, but boy did she use the one she was given. She took a childhood that was surrounded by doctors, tests, surgeries, devastating information, professionals losing hope, and absolute heartache, and transformed it into a childhood of countless interactions with family and God. She formed a community from all over the world and united it in prayer, faith, and encouragement. She produced smiles amidst pain, and portrayed joy beyond suffering. Kylie may not have even known the enormity of her actions, she was simply living the best way she knew how. GOD gave her a heart that would never be tainted by the cruel reality of cancer. He gave her a smile, that while it felt the sting of her illness, always found a way to come back, brighter and bigger and more determined than ever. God gave her a spirit that would fight every minute of every day, when so many of us would have understood if she wanted to quit. Nothing stopped her, surgeries just made her more stubborn than before, determined to sit up or crawl. KYLIE ruled her room, pretending to sleep when the doctors came in if she didn't want to be touched, telling nurses or even family to shoo or go if she simply wanted to watch TV and not be bothered. She laughed with so much carefree bliss. Even when the difficulties weighed in on her, Kylie found a way to come back. She lived a life of faith without knowing it, because God instilled in her His peace, His pleasure, His comfort.
I firmly believe God chose Kylie as His messenger. He chose a two year old who didn't even speak full sentences, to shout out His message to the world. She helped us believe in miracles, she helped us see fulfillment in the simplicity of a moment, she helped us find strength through seemingly endless battles. She helped us recognize what is important. She helped us see past our own failures, hurts, and anger, and grasp onto what truly matters. Kylie Strong became a reflection of what God's chosen warrior, messenger, and angel looks like. Cancer attempted to break what God so perfectly formed, it attempted to steal His chosen child, and to stain it with despair, fear, disbelief, and death. Kylie may have lost her life but Cancer never stood a chance. When we live our lives free of the burdens of this world, when we stand up against all impending heartache and disappointment, when we live a life that reflects our delight, fortitude, bravery, and love; when we lift our faith up higher than our circumstances, and when we walk our journey together through prayer and encouragement, then we will begin to see God's kingdom overcome a broken world. Kylie lived to remind us that there is so much more waiting for us than this life, and that knowledge brings about more joy and peace than cancer or death or pain can ever touch.
Kylie Elizabeth, your Mother and I will miss you every second of this life, but we will forever be transformed by the mark you made. I know I will strive to live it fighting to never give up in my decision to enhance the love and faith that you sparked in thousands of others. Kylie, I will choose every day to be Kylie strong. Kylie your daddy truly loves and misses you.  Thank you to everyone who has walked this journey with us, and thank you for loving our girl." – Luke Rowand
Kylie's favorite men carrying in her casket.

Pin this
image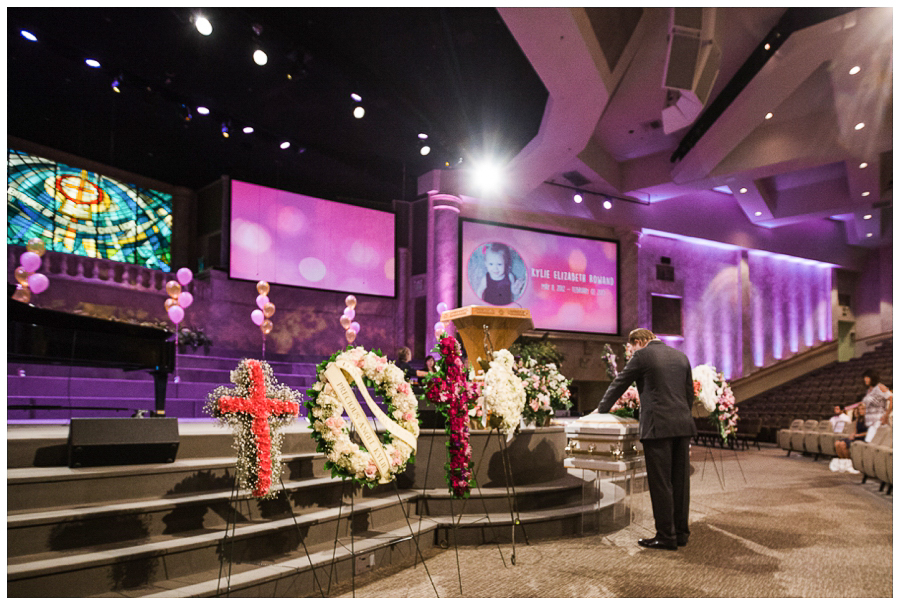 Pin this
image

Pin this
image

Pin this
image

Pin this
image
Thank you Natalie (Bree's best friend) for your heartfelt speech.
You are a wonderful and supportive friend.


Pin this
image

Pin this
image
My cousin, Madelyn singing some of Kylie's favorite songs.
It's a voice of an angel singing to our angel.


Pin this
image

Pin this
image
Bree's older sister wrote a letter to Kylie.
I was touched when she said that she never knew that she could love a niece as her own child.
Jenn was the best aunt to Kylie.

Pin this
image

Pin this
image

Pin this
image

Pin this
image
I was so nervous for my brother. This last week has been the worst days of his life. Personally, I couldn't imagine getting on stage in front of 2,000 people to talk about Kylie. I know I wouldn't have been able to get a single word out. However, Luke was determined to stand up and pay tribute to his daughter. I was praying so hard that he would feel courage and strength to get out the words that he needed to say. He didn't have anyone walk up with him. He was bold! His speech hit right to the hearts of everyone in the room. There wasn't a dry eye in the audience. He gave it with grace and at the end he received a standing ovation. My brother was an amazing dad and I know Kylie was looking down at him with pride just like our family and the entire church. I asked him how he felt after his speech and then I mentioned that the entire church stood up for him at the end. He said that he didn't even notice. I knew that his speech was a moment where he was able to connect with Kylie and he allowed us all to be a part of it. Luke and Bree have been so transparent through this journey. It's hard to welcome others into your world when you are most vulnerable. However, they have shared every ups and downs while bringing a huge awareness to Childhood Cancer. Because of their words, photos, and documentation, they have led thousands people to love their daughter in unexplainable ways. I know God has big plans for these two. They have a gift of being messengers and I can't wait to see how they are going to use that gift to change the world.


Pin this
image

Pin this
image

Pin this
image

Pin this
image

Pin this
image

Pin this
image
We were honored to have Pastor Doctor David Jeremiah lead the main message. What I loved most was that he mainly looked at Luke and Bree throughout his entire sermon. It was like no one else was in the room. His words were powerful and he gave us all great hope and peace knowing that Kylie was healed and in Heaven.

Pin this
image

Pin this
image
"Kylie's celebration of life was far more beautiful then I could have ever expected. Thank you, Jen at Shadow Mountain Community Church for making everything we so hoped for come to life and thank you for making it all run so smooth! Thank you to the Church and Pastor Jeremiah for hosting and speaking so beautifully. We felt so honored. Thank you, Robert at East County Mortuary for taking such good care of my baby and letting me come and see her everyday. Thank you, Maddie for the beautiful songs you sang so gracefully. Thank you, sissy Jen and Natalie for the beautiful words dedicated to our family. Thank you, Ashley at Heavenly Dressed for making the most beautiful, angelic dress for my baby girl. Thank you to all my amazing volunteers, Mama, Daddy, Jenny, Analisa, Amanda, Sue, Gina, Barbara, Riley, Chelsea, Karen, Dave, little Karen, Lane, Dain, Paul, and the Vitales (please forgive me if I leave anyone out) for everything you guys did to make this all come together. And a giant thank you to the over 2,000 people who came to show their respects to our beautiful Kylie. It took my breath away looking up and seeing everyone there for my baby. Thank you to all those who watched via satellite as well!" – Bree
Special shoutout to Esther. We worked at the same wedding last year, but she does not know me or my family. She followed Kylie's story online. Throughout this process, many people have hosted fundraisers for Kylie. Although, I know many people have done this, it's rare to find people who give without asking for anything in return. She contacted me after Kylie's passing asking how she can help and she wanted to donate her floral services. She didn't want a percentage of the proceeds and she didn't want any recognition, she just wanted to contribute. She provided floral services (on one of the busiest days of the year… Valentine's day) and set up them up early in the morning of Kylie's life celebration. I only was able to speak to her for a few seconds because of the timeline that we were on. I emailed her my gratitude and asked how I can repay her. She didn't want any type of payment. I asked for her business name so that I could leave a review and she replied, "No need to write a review! This was my gift to you and your brother and Bree and I was so happy to do it!" Truly, this woman is blessed with a servants heart. So even though she said, no need to write a review, THANK YOU ESTHER! Your flowers were beautiful and we are all so appreciative of your time and service. You make me want to do more for others. We need more people like you in this world. Here's a little photo table we put together in the lobby. Some of my all time favorite photos of Kylie.

Pin this
image

Pin this
image

Pin this
image

Pin this
image

Pin this
image

Pin this
image

Pin this
image

Pin this
image
More Kylie memorabilia, cards, letters, bubbles, and a paper published in her honor. It was awesome to be surrounded in a room of everything Kylie.

Pin this
image

Pin this
image

Pin this
image

Pin this
image

Pin this
image
Throughout the process, I learned the importance of family and friends. People shine when you go through triumphs and trials and I learned that we are truly blessed. So thankful for our community and their outpour of love. You all get me through life and I'm thankful for each and every one of you! 

Pin this
image
After the service, we headed to the cemetery to say our final goodbyes. When Luke and Bree went to pick out a place for Ky's burial, they were having a hard time finding the perfect spot. The man who worked there pulled Bree aside and asked if she has seen the area next to the turtle pond… TURTLE POND (Kylie's all time favorite animal). How amazing is that?


Pin this
image

Pin this
image

Pin this
image

Pin this
image

Pin this
image

Pin this
image
We had a balloon release for Kylie and her best friend Margo (who also passed from cancer). This was one of my favorite memories because it was a brief moment of comic relief. A few people gave some heartfelt words and then we released our balloons into the sky. BUT THEN, a gust of wind came and blew all of our balloons into a tree where they got stuck and/or popped. In the midst of tears, we all started laughing. We didn't think we would be laughing for a long time. It reminded us of our sweet girls and what little rascals they were. We knew that they were laughing with us in Heaven.

Pin this
image
After the balloon release, we all went on the bridge and fed the turtles. 

Pin this
image
Kylie's cousin, Parker loved feeding the turtles but he took a break to blow a wish to Kylie. Such a sweet moment.

Pin this
image
After the balloon release and turtle feeding, we individually laid a flower on Kylie's casket and said goodbye.

Pin this
image

Pin this
image

Pin this
image

Pin this
image

Pin this
image

Pin this
image
This picture is so powerful. Bree was truly the best mother to Kylie. How many people can say that their mother was with them every second until their final breath? She spent a year sleeping on a chair, in Kylie's bed, or on a tiny couch so that Kylie would never experience a moment of being alone. She dropped the world so that she could give herself completely to her daughter and all of her needs. She rarely slept or ate, but she rarely complained. She enjoyed every moment with Kylie and constantly remind us that she would not trade any of those memories for the world. I'm so proud of Bree and her strength. She loved and gave Kylie with everything that she had. I know she will be an amazing mother again and her future children are going to be so blessed.

Pin this
image

Pin this
imageAfter the cemetery, we headed back to my mom's house to eat and be with family. So thankful for this time that we were able to have together. On a day all about love, I truly could not have felt more loved.


Pin this
image
The most amazing women in my life. So thankful for them. We just sat on the couch and talked about our favorite memories with Kylie and Margo. We then made Madelyn serenade us with more of their favorite songs. Together we all sang, "Lean on Me" and the words couldn't be more fitting. As cheesy as this sounds, we really do lean on another when we are not strong and together we help one another carry on.


Pin this
image
Again, thank you to everyone who has followed Kylie's journey. Your love, prayers, support, and encouragement have meant so much to Luke, Bree, and our family. We are so thankful for all of you.
To wrap up this post, I want to confront the question I received most throughout this process. I hope this helps. I have not questioned God. I might get upset, sad, and/or angry, but I don't question His plan. People say, "why do bad things happen" and here is what I realized. Our family knows it wasn't God that brought in pain and death, it was sin. Because there is sin, we will experience heartache and suffering. God did not make Kylie die, instead He helped her overcome cancer and He gave her the gift of life. He is giving her an everlasting life in Heaven. On earth, He never abandoned us. He helped Kylie hold on a little longer and confuse the doctors when they gave her no chance. He helped her overcome unexplainable obstacles so that they had to point to a higher power for reasoning. He gave everyone time to see her, tell her she's loved, and say goodbye. She passed peacefully in the arms of her mother and father. She lived a powerful testimony that touched thousands of people to the point that they would leave comments saying it was because of Kylie's journey that they prayed for the first time in their life and/or gave their life to Christ. That's all I hope to do with my life and she did that by the age of two. We sometimes forget to praise God in blessings. When we receive jobs, loved ones, a day off, travel, and everything in between (big or small) we grow comfortable and/or we want more. We often times forget to thank Him (or at least I do) no matter how many things He throws our way. However, it's opposite when things get hard. His existence is sometimes highlighted in times of pain so that we have someone to blame. We often test His existence by asking Him to change the unfortunate situation to our liking. Remember, God reveals Himself throughout everything that we do… the good and the bad and sometimes it's hard to recognize Him in both. I know it's God who makes us experience love, joy, and hope that we will be free from it all one day. He gave us those gifts several times throughout Kylie's sickness. Through her laugh, sass, and triumphs, we experienced great love, great joy, and hope. Through all of this, I now recognize how hard it was to sacrifice Jesus (His only son) who made a relationship with God even possible. We love Kylie so much and the thought of sacrifice is unfathomable. I know God loves us to the degree we love her and more. He knew that the sacrifice of His son for our sins was something we would one day understand in great depths by how much we grow to love others. Unwavering faith is from the devil and he doesn't deserve that part of my life with everything else that he has taken. God deserves the glory because of everything that He has given. He gave us the choice to choose Him and Heaven. A place to escape fear, pain, and death. For that, I'm thankful and I will forever praise Him.