Are you all ready for a small novel? I have a lot to say! I want to start this post with a huge thank you to my sister-in-law, Ariana at Randle Photography for capturing this special time in our lives… and for putting up with me! Prior to our shoot, I received the 24 hour flu and it hit me hard! I woke up that morning incredibly sick and I started throwing up. I attempted to put on fake eyelashes, but I gave up after I barfed two pairs off my face. Graphic, I know. We drove to the mountains, but we had to make a few pit stops so that I could throw up at a gas station and on the side of the road. It was very aggressive, but I was determined to check maternity photos off my list of things to do! We had no wiggle room to reschedule with the holidays, our vacation, Trent's school schedule, my work schedule, and everything in between. Trent and Ariana were the best caretakers and they tried to make me stay at home, but they both know me too well and they have learned to just go along with my stubbornness. I'm thankful that we chose to shoot in the mountains because the fresh air and the cold was the only thing that made me feel slightly better. Lucky for me, the bug was only 24 hours. However, unlucky for Trent because my flu was very contagious and he caught it the next day… followed by Ariana.
Being pregnant has truly been one of my all time favorite stages in life. After Trent and I got married, we made a three year plan with all the things we wanted to do/accomplish before we started a family. We created quite the bucket list for our spiritual life, business life, and for our traveling adventures. We were able to visit 14 countries, we expanded my photography business, Trent was accepted in med school, we created a Bible Study with up to 40 members in attendance, and we gained some fur babies along the way. It was three years of constant hard work, adventures, and trying new things and we loved every minute of it. Trent and I were so thankful to have all those memories together and to establish that foundation as a couple before we started adding more to our family.
When our three year mark hit, we couldn't believe how fast time flew by us. It's hard to explain, but there were moments that seemed like our wedding was just yesterday while at the same time it felt like we have been married forever. We quickly learned that no time seems like the perfect time to start a family, but we were ready to drink the baby kool-aid. With my business, I was praying and planning to have our first baby between January or February because those are my slowest months of the year. Clients don't often budget for weddings and/or lifestyle sessions after the chaos of the holiday season. When we started trying, January quickly passed and soon the first half of February. We were worried that if we didn't get pregnant in April/May then we would have to wait another year. However, the day after my sister's wedding day, I couldn't sleep because I felt like I was pregnant. I didn't have any symptoms, but I had a strong premonition. I remember turning on worship music, peeing on my stick, holding it in the air like baby Simba, and glancing at it minutes later as if I was looking straight into the sun. I do not glare on purpose, but sometimes when I squint, I must subconsciously think that I'll receive the answer that I want. When I saw the plus signs, I danced and jumped around our bathroom like I was at a rock concert. I was originally planning to tell Trent the news in a creative way, but I was too excited to hold it in. I shook Trent awake at 4am and placed the stick right in front of his face. He was dazed, confused, thrilled, and completely out of it. He gave me a half smile, a thumbs up, and he fell back asleep. The next morning, he was able to take it all in and we were finally able to freak out together. We barely hit our mark, but I couldn't be happier when our Doctor estimated that our baby would grace our world on February 20th of this year! High five, we did it… literally! Check out our baby announcement video here!
I was so excited to be pregnant, but once I received the confirmation, I began to fear the process. So many emotions hit you at once and it's hard to compartmentalize your variety of feelings. For six years, I have photographed a large number of maternity sessions. When I hit 25 years old, I fell into the stage where everyone around me seemed to be getting pregnant and popping out babies. I always found pregnancy to be beautiful on other women, but I couldn't comprehend the idea that I was about to finally experience the stories that have been shared with me… and let me tell you, clients hold nothing back on their photo shoots. I have heard the ups and downs of childbearing along with the horror stories of being pregnant, labor, and everything in between. Everyone would say, "just wait until this happens… wait until you get into this stage… wait for your body to do this/feel this…" and the list goes on. It also doesn't help that I have the pain tolerance of a small child. I'm afraid of needles to the point that I can barely watch someone get their ears pierced.
However, I know it sounds cliche, but the power of prayer is amazing! This pregnancy has reminded me of 1 Peter 5:6-7 which states, "So humble yourselves under the mighty power of God, and at the right time he will lift you up in honor. Give all your worries and cares to God, for he cares about you." It's true… to genuinely cast your worries to God is a humbling act. Every night, I prayed for courage, health for our family and our baby, the calming of nerves, patience, to enjoy this miracle, and to have fun. Trent would pray with me at night and prior to our meals and I am excited to say that I have truly experienced God's presence throughout this entire journey. I have felt and I still feel healthy, motivated, encouraged, and at peace. I never expected to enjoy pregnancy and I am very thankful and extremely surprised to see that I have loved it! Even on the days where I felt nauseous and/or when my body ached, I was thankful because I remembered that it is a gift that so many women wish they could feel. I compared it when my niece got sick and then we overheard people complain about their babies throwing tantrums. We all wished that Kylie felt healthy enough to through a tantrum and be a part of the "terrible twos." Sometimes the trials that we think are hard, are the moments that so many people pray to experience. It helped me grow sensitive toward the feelings of others and I learned to be grateful.
My favorite days are when Trent and I lay on the couch or in our bed and we feel our baby boy kick and wiggle. It's an experience unlike anything else! There are so many pros to being pregnant that are often overshadowed by the cons. For instance, I love walking around with my belly sticking out and receiving compliments for it. The other day, my stomach poked under my sweater and lady told me how cute I looked… Say what?! I have received a new sense of confidence in a body shaming world. Pregnancy has also inspired me to take better care of my body because I'm not only eating for myself, but for our little boy. Sadly, I didn't adopt the phrase, "eating for two" because I'm not a gym enthusiast and I know how hard it would be for me to lose excess baby weight. I try to keep my meals balanced and comparatively normal so that I'm not tempted to fall into the habit of downing a platter of brownies before bed… it does cross my mind though! Yes, you do have to go to the bathroom all the time, but that can be a perk within itself. When you stand in line for the bathroom, women often let you cut to the very front. I have experienced this at theaters, restaurants, and airports. Traveling isn't so bad because most people are sensitive to your situation. I've traveled to 5 different states and out of the country and multiple times, I've been pulled out of line and was given access to precheck just because I had belly bump. You also get to preboard, which is a big perk for me since I often fly standby and I usually end up being the last person on the plane. It's been such a fun stage where I've been able to visually, spiritually, and mentally see a transformation and change within my mind, body, and soul. I have learned so much through this process and my biggest takeaway is to continue to cast my anxiety on God and to let Him guide me through the fears of the unknown. It's a wild ride but an amazing blessing, miracle, and adventure all wrapped in one!
We had to incorporate our fur babies into a few photos.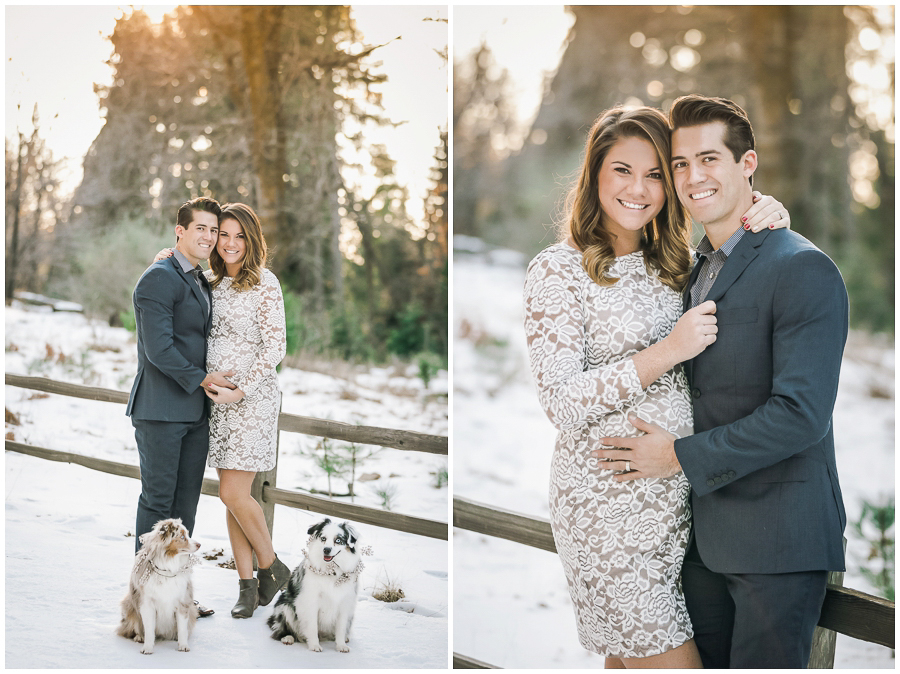 Pin this
image
We gave our dogs a bath and blow dried them that morning.
We thought it would make them look clean and fluffy… Now we just think we made them look fat, haha! 

Pin this
image

Pin this
image

Pin this
image

Pin this
image

Pin this
image

Pin this
image

Pin this
image

Pin this
image

Pin this
image

Pin this
image

Pin this
image
The picture of my pups running towards me cracks me up! 

Pin this
image
My favorite!

Pin this
image
Hey little cuties! 

Pin this
image
Dress change. My entire outfit is from Target (I added the bow). 

Pin this
image

Pin this
image

Pin this
image

Pin this
image
Seriously, how cute is my hubby? 

Pin this
image

Pin this
image

Pin this
image

Pin this
image

Pin this
image

Pin this
image

Pin this
image

Pin this
image
Love this shot! 

Pin this
image

Pin this
image

Pin this
image

Pin this
image

Pin this
image

Pin this
image

Pin this
image
Baby Announcement Video:
Click here!