"He is not here; he has risen, just as he said." – Matthew 28:6
I hope you all had a lovely Easter. What a great day to come together and celebrate Jesus! I loved waking up and seeing my social media feeds filled with scriptures and praises. I was lucky enough to spend the day with both sides of my family. In the morning, we all ventured out to Seaport Village. We ate at, The Cheesecake Factory and then we walked along the water. We popped into the little shops and bought touristy things, viewed art galleries, and ended up lounging in hammocks. I love holiday's because it's refreshing to have a day completely surrounded by family. It's been a hard year and on special occasions, you can't help but think about Kylie. We all wish she was here to celebrate with us, but we know that she is celebrating with Jesus in such a grander way up in Heaven. Tomorrow, Kylie will be two months cancer free. It was our first holiday without her, but when you reflect on what Easter is all about, it's a great comfort to know that God fulfills his promises. He sent His son down to earth to take away our sins so that we could receive salvation and have an eternal life in Heaven. I have said it before, but through all of this, I have learned that God loves us to the degree that we love Kylie and more. He knew that the sacrifice of His son for our sins was something we would one day understand in great depths by how much we grow to love others. He gave us the choice to choose Him and Heaven. With that, I have peace knowing we will all be reconnected again.
"Praise be to the God and Father of our Lord Jesus Christ!
In his great mercy he has given us new birth into a living hope through the resurrection of Jesus Christ from the dead." 1 Peter 1:3
Lovely ladies in my life!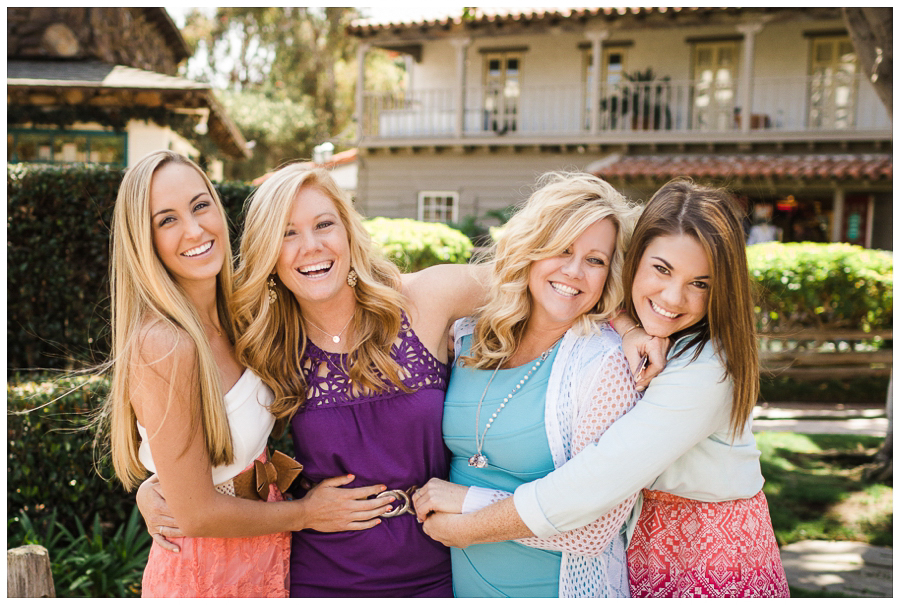 Pin this
image
Handsome fellas!
The last brunettes standing in our blonde family! 

Pin this
image
Our favorite shop is always the hammock store.


Pin this
image
How pretty is my sissy-in-law?

Pin this
image
After brunch, we headed over my in-laws house. I always love spending the day with my Brookshier family. I gained so many wonderful brothers, sisters, and cousins when I married Trent. A group that truly respects and loves one another. Our get togethers are always so much fun. We are loud and the days are filled with so many activities. James and Non are amazing hosts, we were greeted with a ton of food and they made us eat until we were stuffed. Home cooked honey ham, sweet potatoes, fresh fruit and salad… yum! After lunch, we hid eggs and my nieces went Easter egg hunting. They screamed every time they found an egg, it was so cute. Kordelia was so excited, she kept running with flailing her basket all around and all her eggs kept falling out. Afterwards, we put on our shoes and headed to the backyard. James and Non have their own chicken coop and it's the hangout spot for my little nieces. They LOVE playing with the chickens. We collected fresh eggs, Kordelia grabbed a rake (on her own) and she started doing yard work, and Kambria picked flowers and petted the chickens. I asked her why she was picking flowers and she said, "because it makes my mom happy." She's the sweetest! My mom stopped by with Easter baskets filled with goodies for the girls. We blew bubbles, played with chalk, dyed eggs, took a family walk, ate candy, and ended the evening watching the story of Jesus on ABC. We always make a joke that when one tries to leave a Brookshier event, it takes an hour to walk out the door after saying goodbye. We said goodbye around 7pm, but then we headed down the street to tuck my nieces into bed (the live down the hill from grandma's). It's hard to say no to Kam and Kor when they ask you to do anything because they are so precious! Trent prayed with them before they fell asleep and their praise to God was for their large family and their prayer request was that he would never ever leave. How adorable is that? After they fell asleep, we hung out with Knute and Jess until almost midnight. We were planning on heading home around 6pm, but like always, we had a hard time leaving! Another great Easter Sunday! 

Pin this
image

Pin this
image

Pin this
image
When you have three kids that are all separated by a year, a family photo is hard work! These crack me up!


Pin this
image
Finally got a good one! :)

Pin this
image
I still love dying eggs!


Pin this
image
Playing in the chicken coop! 

Pin this
image
LOVE this shot of Koredelia! 

Pin this
image

Pin this
image

Pin this
image
It's fun to see their personalities take shape. Kambria is a little princess. She loves all girly things. Princess, pink, and flowers are her go-to. When she's in the chicken coop, she likes collecting the pretty eggs and singing to the chickens. Kordelia is low maintance. She's carefree and a little adventurer. She walked down by herself, grabbed a rake, and got to work. She loves to get dirty, climb, and explore. She even knows how to pick fruit, peel it, and eat it. She's a little farm girl at heart. The picture below depicts them perfectly! 

Pin this
image
Fresh eggs are so beautiful! Love the colors! 

Pin this
image

Pin this
image

Pin this
image

Pin this
image
Non was super grandma yesterday. The makes every activity with Kambria and Kordelia so much fun. Bath time with the girls is one of my favorite activites. They are hilarious and always splashing around. Non found these amazing tablets that turned the water different colors. I'm so in love with these little cuties. I wish they would stay little forever!