We are so excited to announce that we are expecting our first baby in February 2016. It's nerve wracking trying to plan a pregnancy when your job consists of booking clients over a year in advance. January/February is my off season in the wedding world so we knew that those were the two months that we were going to have to push for. If it didn't happen, we were going to wait and try again for the end of next year.  God couldn't have blessed us with a greater gift! We were praying that it would happen earlier than later and we received positive tests the day after my sister's wedding day. It was hard keeping a secret for four months and I'm so happy that we can now share the exciting news!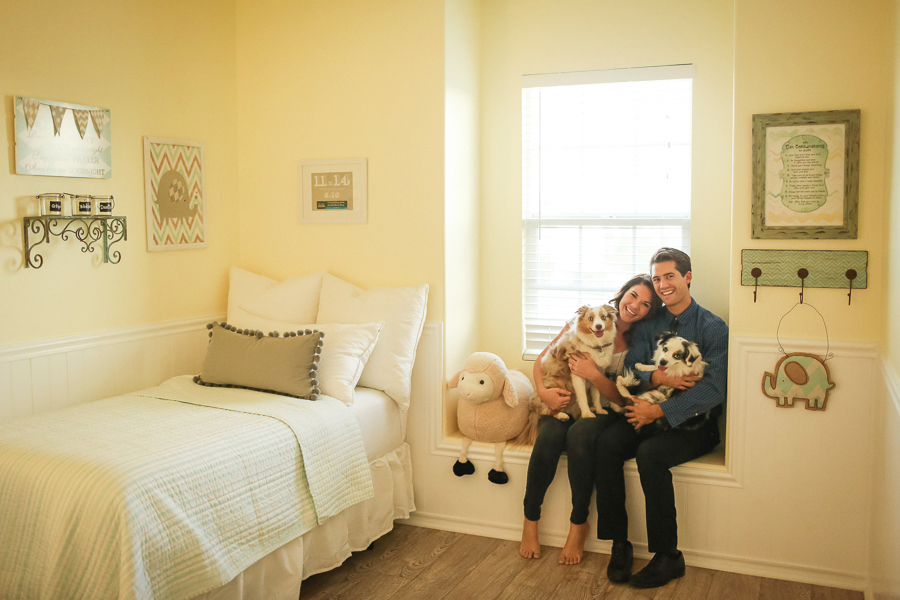 Pin this
image

Pin this
image

Pin this
image

Pin this
image

Pin this
image

Pin this
image

Pin this
imageOn Labor Day (get it?) we decided to have a family BBQ and a gender reveal. For two weeks, both our mom's knew the gender of our baby and they kept it a secret from us. I'm not the most patient person so each day seemed to get a little more torturous than the next. I could barely sleep the night prior to Labor Day. I told Trent that this was the most excited that I have ever been for a party. The main reason was that our entire family was able to attend. This hasn't happened since our wedding day! I love celebrations because that means you have an excuse to surround yourself with the ones you love most. Like always, my mom went above and beyond with her decorating skills (check her out: Design with Kare) and making this day extra special for us. She's going to be an amazing grandma!


Pin this
image

Pin this
image

Pin this
image

Pin this
image

Pin this
image

Pin this
image

Pin this
image

Pin this
image
Final count: 11 Boys // 12 Girls

Pin this
image

Pin this
image

Pin this
image
I want to thank my best friend (and second shooter) Chelsea for taking all these amazing pictures for us! 

Pin this
image

Pin this
image

Pin this
image

Pin this
image

Pin this
image

Pin this
image
Our families! On the left we had Team Girl and on the right we had Team boy.


Pin this
imageThe grandparents had squirt guns filled with paint. They had the pleasure of shooting us and revealing the gender to everyone. Everyone else had a cup of powder paint (leftover over from my birthday party) and once they found out the gender, they were able to attack us with it.


Pin this
image
My entire life, I always envisioned having a girl first. Leading up to this day when people would ask, "what do you guys want?" Trent would always respond with, "no preference… a healthy baby" and I would always say, "probably a girl." I grew up as a cheerleader, a gymnast, and a dancer. I played with Barbies, I dressed my dogs up in doll clothes, I owned a million baby dolls, and I have always been into everything cute and girly. My sister is the one who was blessed with all the tomboy and athletic genes. She loved collecting bugs, rolling in the dirt, hanging with the boys, and playing every sport imaginable. As kids, we used to joke that my first baby will be a boy and her first baby will be a girl and we will switch because we won't know what to do.
When I got pregnant, I had a feeling it was a boy. However, Trent said that his male intuition told him that we were having a girl. It was four months of back and forth confusion. We know four people who are also pregnant and they are all having boys so we thought we would be the break in the trend. Well, after months of guessing and assumptions, we we learned that there isn't such thing as "male intuition" and we are having a boy!! ;) We were truly shocked! Prior to the paint attack, we looked at each other with such assurance that we were about to see pink. On our two hour drive home, we talked the entire way about how surprised we were and still are. We had to switch gears in our thinking/planning process and change our mindsets to having a son. I woke up this morning just praising God because His planning and timing has always been evident in our lives and we love when He pulls surprises on us. Just when we think we know what's next God reminds us that He is the only one that truly knows! We can't wait to see how much more our lives our going to be enriched blessed by our son. This entire day I have been smiling and imagining a little boy creating pure chaos in our house and I couldn't be more excited.


Pin this
image

Pin this
image

Pin this
image

Pin this
image

Pin this
image

Pin this
image
People keep asking me what I am looking forward to most. I'm looking forward to watching Trent be a dad. For eleven years, I have witnessed Trent be the kindest man. His heart is filled with so much goodness and love and I can't wait to watch him share that with our children. I pray that our little man grows up to be exactly like him! 

Pin this
image

Pin this
image
After the reveal, we were able to eat, have a pool party, and spend the day with all our favorite people! Thank you again for all the sweet comments, we are so excited and grateful! 

Pin this
image
A few cell phone favorites!

Pin this
image

Pin this
image

Pin this
image

Pin this
image

Pin this
image