Wow, where do I even begin? This was the BEST birthday I have ever experienced. My 24th birthday fell on the greatest day of the year, Easter! I'm so thankful that I was able to spend the entire day with my family celebrating God's love, sacrifice, and fulfilled promised. We attended The Rock Church on Saturday and on Sunday, the entire family came together for brunch. I am lucky that I have two families who enjoy being with one another on the holidays. An extra special shoutout to my favorite Hawaiians who came all the way down to celebrate my birthday. Love them! Here are some of my favorite pictures. Some were taken with my camera, but most were taken with my cell phone. Enjoy!
The Easter Crew!
My mom was Pinterest-y before Pinterest.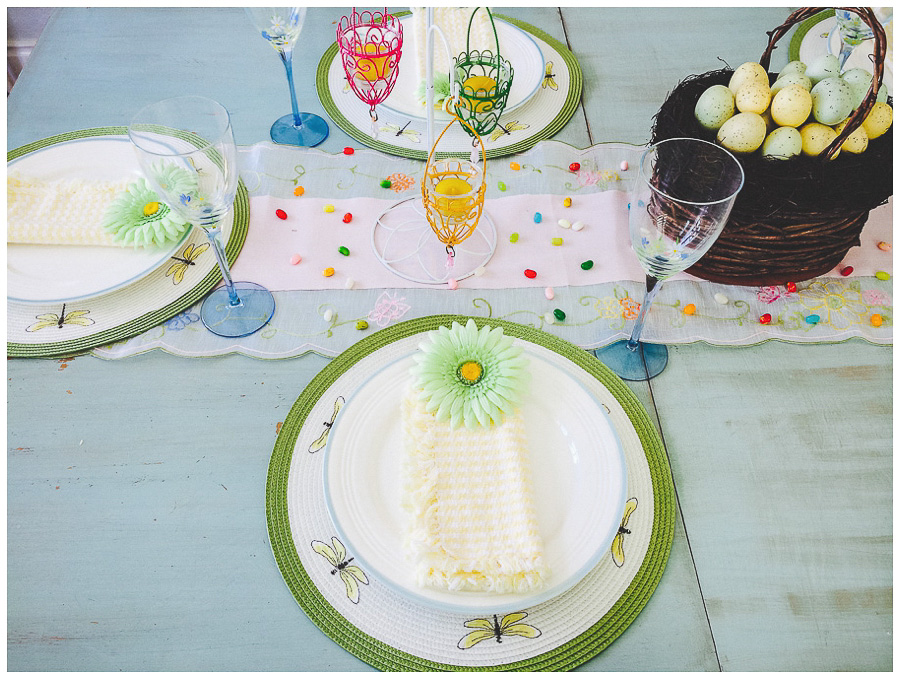 Pin this
image
My mom, being the super mom that she is, spoiled us with an amazing breakfast feast.
She will always be my favorite cook!
Some of my favorites: Strata, bacon (always), and fruit pizza.
After brunch, I opened up a few gifts from my family.
My sister knew I kept trying to win this new Kelly Moore Bag on Instagram and she secretly purchased it for my birthday.
She is always the best gift giver. Her and her sneaky ways! How cute is this camera bag?


Pin this
image
After our food comas subsided, we headed to the park. My mother-in-law packed a picnic for the entire family and it was delicious.
She knows I'm a sucker for chicken salad and pretzel buns. Yummm, my fave!
We all enjoyed playing with our nieces, the dogs, frisbee, bocci ball, and soaking up the beautiful summer-like day.


Pin this
image
My nieces are just so darn cute!

Pin this
image
If only you all knew how special this image below is. In 10 years of knowing the Brookshiers, we have NEVER had a complete family photo.
Not on graduations, weddings, and/or holidays. We always have one person missing, so this picture makes history.
So here we are, the entire Brookshier clan. I am thankful to be a Brookshier. Love my family!
I loved having my birthday on Easter. There was so much to celebrate and I loved I was able to spend the day with both sides of my family. I would have loved to schedule something with my friends, but since it was Easter weekend, everyone was away with their families. I didn't think to much about it after that. One Wednesday, April 23rd, I had a photo session and Trent tagged along. I always try to get him to come on my shoots, so I knew it was a birthday treat! He told me he had a surprise date planned afterwards. I was blindfolded and I guessed that we were going to see a broadway show or go to the spa. When we arrived, he lead my blindly and when I walked inside the mystery room it was quiet, cold, and dark. I instantly thought that we were in a spa. He told me to take off my blindfold and to my surprise, I was surrounded by all of my closest family and friends. I don't know how high pitched my scream was, but wow they gave me a mini heart attack. I had no idea! My sister, my best friend Chelsea, and my other favorite Amanda planned the entire thing. They spent weeks organizing and days putting it together. I can't believe how lucky I am to have these amazing people in my life. They bless me more than they will ever know!


Pin this
image
I loved EVERY detail. It was all of my favorite things. Favorite snacks, drinks, and colors!
I love movies and popcorn and they set up this cozy theater outside.


Pin this
image
Thankful for these lovely ladies. Such amazing women!

Pin this
image

Pin this
image
Special friends who make me so, so happy!

Pin this
image
My amazing family! These pics are always the hardest.


Pin this
image
The bestest friends that anyone could ever have!

Pin this
image
And the world's most selfless and kindest husband. Love him so much!
Almost the entire group. Missing a few. Love these people!
If I could describe my ideal day, it would be this one. Friends, food, games, movies, and just bonding around the fire. The best!
Thank you Trent for doing all that you do. You always go above and beyond! Love you!

Pin this
image