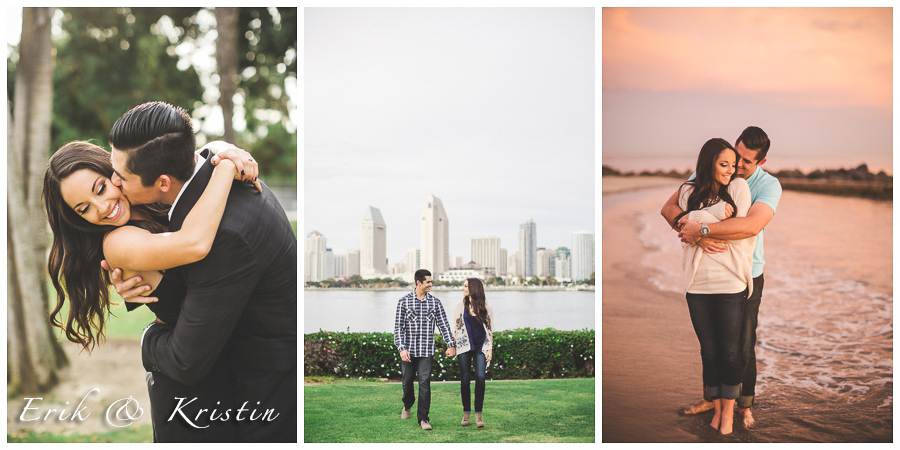 Sometimes when I photograph a session, I can't help but dance in place when I look at the back of my camera because I am so excited. I  pretty much danced throughout ALL of Erik and Kristin's session. I am no stranger to Coronado photo shoots so it says a lot that Erik and Kristin's engagement has moved up to one of my all time favorites! We managed to visit all the hot spots in one session. We started on the bay side where Erik and Kristin arrived dressed to impressed. They looked like a couple of movie stars! These two were absolute naturals behind the camera. I barely had to direct them because they were always having candid moments with all their laughing, hugging, and smooching. After we explored the bay, we headed toward the ferry. The lighting was perfect so the skyline really popped in all the photos! I love when that happens. We then headed over to the beach where Erik proposed to Kristin. He created a scavenger hunt all around Coronado and the last clue led to him in front of the Hotel Del with a ring. Isn't that so sweet? I love shooting at locations that are sentimental to my couples. Toward the end of our session, we received one of the prettiest sunsets I have ever witnessed/photographed. If you don't have time to scroll through their images, just scroll straight to the bottom and see God's painting in its ultimate glory! I loved hanging out with this sweet couple and I am so excited for their wedding. It's going to be so much fun!! Congrats Erik & Kristin!

In love with her heels! Such a great touch.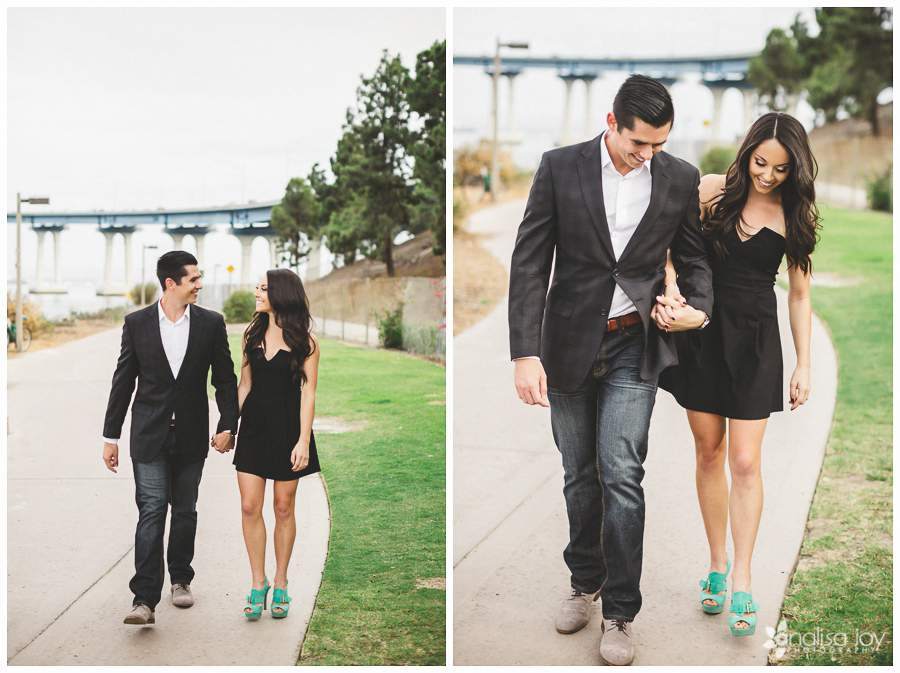 Makeup by Kandice! I recommend her to all my brides. Check out her Instagram: @makeupbykandice.

Thank you random stranger for docking this rowboat/great photo prop on the beach for us! 
These two are TOO cute! 
We are lucky to live in this beautiful city! 
We had a couple of photo bombers. They kept walking in our shots and we were cracking up!
A favorite from the day!

I'm in love with Kristin's shoe fashion! 
I made them climb through these slippery rocks and it was worth it!

They are so much fun!! 
Here comes the prettiest sunset ever! 
Amazing!! I kept telling them that I want to hang this in my house!